The Story of the Lost Valise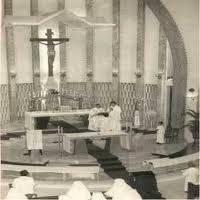 "Ah!"reminisced the good Bishop Petrelli, if the daughters of Mary of the Passion are in the Philippines, it is thanks to my brother's lost valise!"
The diocese of Lipa, erected on April 10, 1910, was entrusted to the energetic stewardship of Monsignor Joseph Petrelli, the then Italian secretary of the Apostolic Delegate of the Most Reverend Ambrose Aguis, OSB.
Intelligent, young, dynamic and dedicated, he set about his task of organizing his diocese like a young man in a hurry and with a strong sense of urgency. He founded a seminary and followed this up with the plan of establishing parochial schools. Accordingly in 1911, he sent his brother, Fr. Gustave Petrelli to Europe in search of English and Spanish speaking nuns.
Father Petrelli met Mo. Marie Alexandre in Belgium in November 1911. Through her, he then relayed his brother's urgent appeal for 6 or 7 sisters to Mother General Marie de la Redemption who happened to be in Paris for the departure of several groups of FMM sisters for various mission posts. Taking no chances , Fr. Petrelli himself proceeded to Paris to plead the case of his brother personally with Mere (Mother General). Feeling tired, M.M. de la Redemption sent her secretary, M.M. Jeanne, to receive the visitor. Her message was brief. For the moment, the good bishop's request could not be accommodated. The foundations promised in 1911 General Congregations were accorded the priority and there were just not enough Sisters to spare.
Disappointed, yet quite resigned, Fr. Petrelli rose to leave but discovered that his valise (suitcase) was missing. A group of Sisters who left for England that day had taken it with them by mistake. Her fatigue not withstanding, Mother General went to the parlor to apologize. Fr. Petrelli found his moment and reiterated his brother's request. As the errant suitcase was being rushed back to its owner, M.M. de la Redemption had a change of mind. And so, Fr. Petrelli bade her Au Revoir, happy to have his valise back and most of all, Mother General's promise of six Sisters for the Philippines.
Immensely heartened by this turn of events, Monsignor Petrelli kept up a series of communications with Rome expressing his profound gratitude and pledging in return his ardent assurances that the chosen ones would have nothing to regret for coming to these distant isles. He promptly sent a check of 3,000 francs to cover the Sisters' traveling expenses and then further suggested in his letter's postscript that the number of missionaries be increased to 10. Indeed like a doting parent, he was ready to indulge his little angels as he called them. I will see to it that they will have all that is necessary and I will know how to share my bread with them. Luxury and comfort I cannot promise them, but they will always have in the bishop of the diocese a big heart that will always be their comfort.
Not to be outdone, the Superior General exceeded his expectation. On November 13, 1912, she wrote him that a dozen FMM were on their way to the Philippines.
More promises from Lipa:
Rest assured that these dear Sisters who with great sacrifice left their homelands to come this far for the glory of God and the good of souls will be treated as they deserve. The most important thing is that these dear Sisters are not deprived of spiritual assistance and can live their religious life according to the rules of the Order. I'll see to it that this be provided in the best possible way.